Rough Notes Magazine  | Insurance Networks Special Section
Available exclusively to Network, Carrier, and Service Provider members, the INA has collaborated with Rough Notes to develop a special section of their November edition dedicated to Insurance Networks. In addition to promoting the importance, significance, and differentiating characteristics that networks bring to the industry Rough Notes  will also be offering a deeply discounted advertising opportunity that includes an ad and article to discuss your unique value proposition.
Your company's participation in the 2020 Insurance Networks Special Section includes:
A professionally written feature article and full page, four color ad or a two-page ad spread
National exposure to the industry in both the print and digital versions of the industry's largest and most read magazine, Rough Notes, print and online – all for $5,000
Please Note: the INA is not involved with the creative or financial aspects of the Rough Notes Insurance Networks Special Section. 
For more information, contact Eric Hall at (317) 514-1047.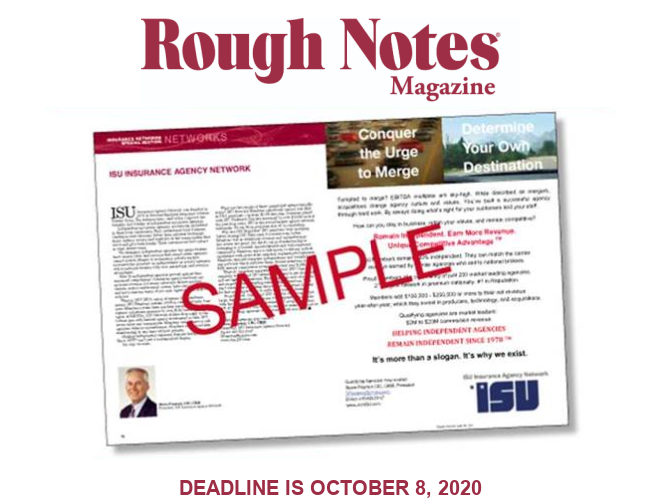 This exclusive offer is available only to Network, Carrier, and Service Provider members of the Insurance Networks Alliance. Not a member? Learn more about the benefits of membership or submit an application today.